CYSP Plus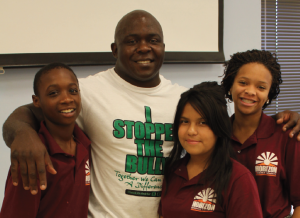 CYSP Plus "Parent Engagement"
CYSP Plus is an optional component where the parents and guardians of CYSP scholars engage in their student's growth and development.
Parents and guardians that participate in CYSP activities with their students may also be honored, and CYSP scholars may earn additional recognition and prizes for their family's level of involvement.
Harvard University researchers indicate that family engagement is critically important to student achievement by
Improving children's literacy

Promoting high-quality work habits and task orientation

Preparing youth for college

Supporting the development of social skills

Increasing high-school

graduation rates, especially students from diverse ethnic and economic backgrounds.
With parents' involvement, parents will have a better understanding of the advisor's job and the importance of CYSP program.
CYSP program has "plus" categories with parent engagement; Bronze Plus, Silver Plus, and Gold Plus. The Plus categories are added to encourage parent engagement and participation in school activities and their scholars' events. This component is not mandatory to achieve any of the three medals but will earn special recognition for the scholars that meet the requirements of this component. All 5th to 12th-grade parents or legal guardians are welcome to join the CYSP program. We encourage CYSP parents to participate in a variety of in-school and out of school CYSP-related activities as well as school functions and events with their children based on the chart below. Scholars will also earn plus recognition and extra prizes if their parents are recognized.